Professional Ultrasonic Jewelry Metal and Eyeglass Cleaner Machine

Make your fine jewelry, eyeglasses, precious coins, and other household items sparkle like new with this Ultrasonic Cleaner. Using ordinary tap water, this cleaner safely treats your jewelry and avoids the uncertainty of harsh chemicals and rigorous scrubbing while still leaving your items with an irresistible shine. Remove dirt, grime, rust, lime scale, and any residue from jewelry, small parts, and hard-to-clean surfaces, and you can even clean items without taking them apart. With its transparent cover and illuminating light, watch first-hand the cleaning power of this cleaner as millions of microscopic cleansing bubbles clean in ways no hand or brush could match!
Simply fill the tank with water and get professional cleaning results in just 3 minutes. With 42,000 ultrasonic energy waves per second, the vibrations created by the device leave a sparkling shine on even the most stubborn jewelry.

With a generous 20oz (600 ml) stainless steel tank (5.4 x 3.6 x 2.1 inches), this device will clean both your fine rings and large eyeglasses alike. Quiet, solid-state circuitry and ease of operation make the cleaner an easy choice for anyone looking for a serious shine.

The high cost of professional cleaning prevents many people from getting their jewelry cleaned to remove accumulated oils and grease. Make a wedding ring shine for a highly personal anniversary gift. Using ultrasonic cavitation reduces the risk of damaging jewelry settings or losing a stone.

Applications:
Cleans jewelry, necklaces, rings, earrings, bracelets, coins, eyeglasses, keys, diamonds, silverware, metal badges, watchbands, waterproof watches, shaver heads, razor blades, dentures, combs, toothbrushes, valves, nozzles, machine parts, printer heads, and other valuables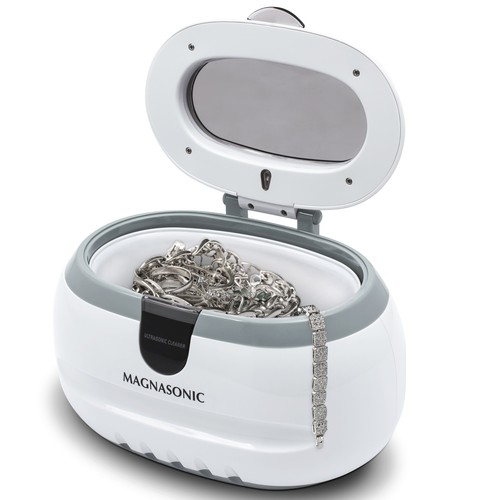 Professional Ultrasonic Jewelry Metal and Eyeglass Cleaner Machine Features:
Cleans dirty jewelry, eyeglasses, watches, utensils, and more in minutes using only tap water (does not remove tarnish)
42,000-cycle ultrasonic energy wave creates millions of microscopic cleansing bubbles that attack and remove even the most stubborn blemishes for a powerful yet gentle clean
A 3-minute cleaning cycle and auto shut-off make operation as simple as pressing the ''ON'' button. Quiet operation and solid-state circuitry ensure a consistent cleaning every time
With a generous 20 oz (600 ml) stainless steel cleaning tank; both small and large jewelry alike can be fully submerged and thoroughly cleaned using just tap water. Add detergent for enhanced cleaning
Professional cleaning results every time make this jewelry cleaner great for commercial or home use
Package Includes:
Ultrasonic Jewelry Cleaner Machine
Cleaning Basket
Detailed Instruction Manual
Fast shipping
Free shipping on all orders in the USA.
AMAZING SUPPORT
Our amazing support team is here to help.
30 DAYS RETURN
Simply return it within 30 days for an exchange.
100% SECURE PAYMENT
We ensure secure payment and accept Stripe, Visa, Mastercard, Amex & Paypal.