Pro Metal Detector Waterproof High Sensitivity Treasure Gold Hunting
Adjust the sensitivity from 1 to 10. The higher the number, the more sensitive the detector. This sensitivity control does not affect Pinpoint sensitivity. In practice, the maximum depth it can probe is about 23cm. If the detector beeps erratically or beeps when there are no metal objects being detected, reduce the sensitivity. It is recommended to adjust the sensitivity according to the ground conditions to avoid false alarms.
In Notch mode, you can customize the exclusion of the first 4 metals(FOIL, 5¢, ALUM, Zn) Note: Iron cannot be excluded from this mode, because large iron nuggets may contain gold nuggets. So you won't miss any valuable metal.
DISC (Discrimination) mode, you can detect multiple types of metals but exclude cheap metals. It allows you to exclude up to 5 metal types in order from left to right, namely Iron, Foil, 5 Cents, Aluminum, and Zinc. After setting, the corresponding icons will go, and the detector will not react to them, which can improve the detection efficiency greatly.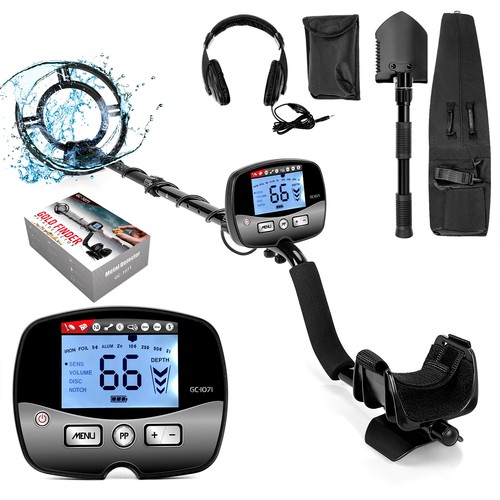 Pro Metal Detector Waterproof High Sensitivity Treasure Gold Hunting Features
When the search coil is accurately positioned on the target, you will hear a strong sound. Then you can use a shovel to dig out the detected metal.

The overload Warning function is to guide you in using the correct detection distance, especially helpful for beginners. If a metal object or highly magnetic soil is too close to the search coil, the detector will overload, and ?--? will appear on the LCD. If this occurs, Just lift the search coil a little bit or move to a different location.
When different metals are detected, they will emit low, medium, and high tones, and it is applicable to all modes. Usually, valuable metal sounds sharp, cheap metal sounds low. So you don't have to keep your eyes on the screen but enjoy the surrounding scenery. It is better to use headphones (included) to let you focus on finding treasures without fear of the noisy environment. The host head is equipped with a 3.5mm headphone jack. Suitable for all universal earphones.
A real-time reminder of your battery usage, let you know when to change the battery, so you can rest assured to carry out uninterrupted detection activities.
Ergonomic design, s-shaped sponge handle effectively relieves wrist pressure.
The weight of the whole machine is only 1.1kg, so it is easy to hold for a long time.
The backpack can be fully loaded with the detector and there is extra space for a shovel and other small tools, which is very suitable for you who like to go out to detect.
Dual-purpose shovel, one end is a shovel, the other is a pick, with the functions of the shovel, pick, saw, nail puller, etc.
Foldable, small in size, easy to carry;
The handle can be horizontal or vertical, bendable, and easy to use;
It is also a good helper for outdoor activities such as camping, setting up tents, climbing, exploring, traveling, organizing the home garden, and scientific research.
Package includes:
1x Pro Metal Detector Waterproof High Sensitivity Treasure Gold Hunting
Fast shipping
Free shipping on all orders in the USA.
AMAZING SUPPORT
Our amazing support team is here to help.
30 DAYS RETURN
Simply return it within 30 days for an exchange.
100% SECURE PAYMENT
We ensure secure payment and accept Stripe, Visa, Mastercard, Amex & Paypal.